GCC-Ground Calcium Carbonate Powders


Nano Calcium Carbonate & Micronized Coated Calcium Carbonate
constituents
Calcia-Nano C
Calcia-5C
Surface modified
Calcia 15
SiO2
00.50
00.50
00.50
CaCO3
+95
+95
+95
CaO
53
53
53
MgO
00.30
00.30
00.30
Fe2O3
00.08
00.08
00.08
L.O.I.
43.50
43.50
43.50
Acid insolubles
Brightness
+95-99
+95-98
+95-98
Particle Size
See Image
@ 300nm
<02.20um <0.6.5um
See PSD Graph
5um 15um
See PSD Graph
Calcia- Nano-C particle size
image@ 300nm scale
Important notice regarding this information
The statements and technical information contained in this document are based on our research and research of others. However, this document is not contractual, and nothing in it, constitutes a warranty (expressed or implied) that the goods described are accurate and fit for a particular purpose of the customer. Purchasers are advised to make their own tests to determine the suitability.
This specification supersedes any former publication and is subject to change without notice.
Particle Size Distributio Graph- Calcia 5C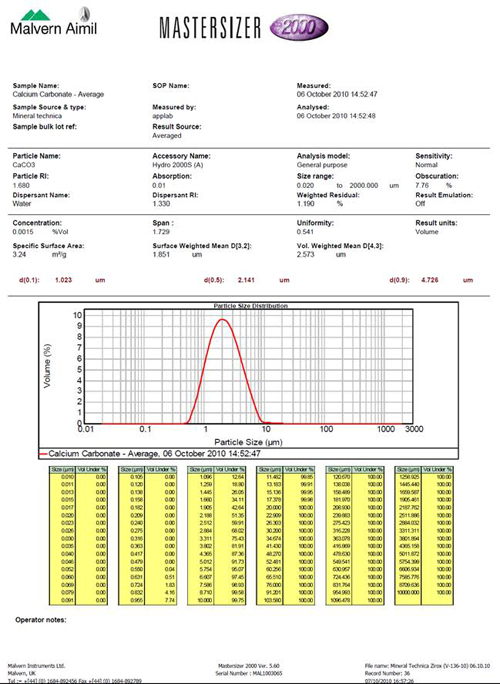 Particle Size Distributio Graph- Calcia 15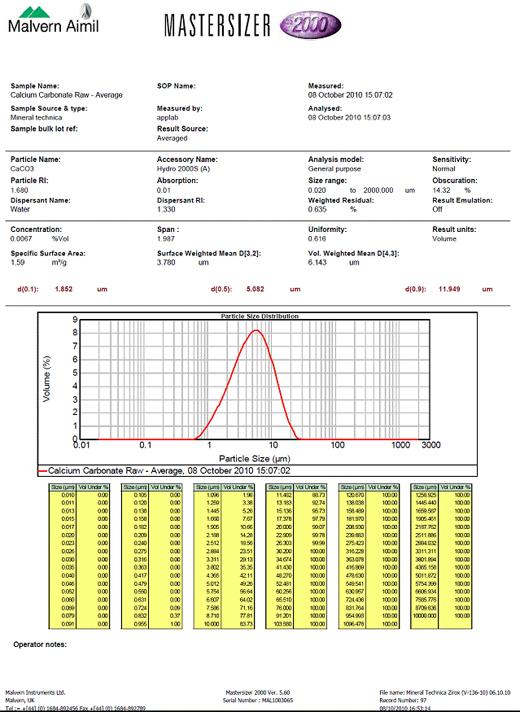 Applications & Usage of Calcium Carbonate Powders
Calcite is popularly known as Ground calcium carbonate (GCC).Ground calcium carbonate is used in paint. Coarser grades act as simple fillers and can control gloss, finer grades can be used as extenders. Whiteness, brightness, yellowness are the key factors effecting the values of Carbonate.

Plastics are benefitted due to addition of ground calcium carbonate (GCC), which increases rigidity,transparency, mechanical properties like tensile strength and impact strength. PVC profiles are an example.

The film producers consume fine calcium carbonate to reduce the formulation cost. Calcium carbonate is used to make breathable film for the diaper applications.
Adhesives & sealants use ground calcium carbonates (GCC) to adjust rheological properties and to give the sealant "body", colour. Sealants require a white mineral filler to maintain a white or light colour.
Ground calcium carbonate is used in paper, inks, pharmaceutical, ceramic, foods, cosmetics also.
Mineral Techniqa supplies nano,2um,5um,10um as an average particle sized micronized fillers and extenders engineered out of natural ground calcium carbonate powders. We can undertake to produce ground calcium carbonate in sub micronised particle and nano crystalline range.


Team RGe
RGe may be contacted at its head quarters:
F-8, PHASE III, RIICO INDUSTRIAL AREA, Beawar 305901. Rajasthan – India.
Tel +91 1462 512340, fax +91 1462 226966, Mobile +91 9414009700
Email: ssr@zirox.co.in, zirox50@gmail.com .
Website: www.zirox.co.in